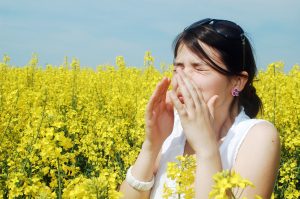 Spring's warm breezes, blooming gardens and milder weather are welcome. The allergies that often come with them? Not so much. But don't let the threat of seasonal sneezes cool your spring fever. Here are six ways you can use your appliances to reduce and remove allergens from the air, floor and furniture in your home:
Wash it out: Pollen doesn't just spread by air. It also attaches to your clothing, and your clothes washer can help remove it before it becomes airborne again, this time in your home. Washing your bed linens regularly in hot water can also kill dust mites, another common source of allergies.  Also, don't underestimate the build-up of allergens in your hair from spending time outdoors.  Be sure that you wash your hair frequently during allergy season.
Dry your laundry indoors: You have just washed the pollen out of your clothes. Using a clothes dryer over an outdoor clothesline will help keep it off. Line-dried laundry and linens can pick up pollen or other allergens while outdoors and bring them back into your home.
Vacuum everything: Pollen and allergens can end up just about everywhere—carpets, rugs, hard surfaces, furniture, drapes, and mattresses. Vacuum all of them to remove as much of the allergens as possible. A portable vacuum with a HEPA (high-efficiency particulate air) filter has the capability to remove more than 99 percent of allergens with particles larger than .3 microns. That includes pollen and dust mites. If you are using a portable vacuum that requires a bag, use micro-lined, two-ply vacuum bags to stop the allergens from being kicked back into the air while vacuuming. Central vacuums capture dirt and pollutants that are carried through a home's exhaust system to a central container. In most cases, they are installed in a garage or basement, and don't require a HEPA filter to remove allergens.
Clear the air: Like vacuums, many models of room air cleaners also use HEPA filters to filter allergens and other pollutants from the air. In fact, a HEPA filter can help reduce pollutants in the air by up to 50 percent, though that depends on  how the unit operates. Look for the unit's Clean Air Delivery Rate (CADR), which notes the suggested room size for an air cleaner and is the most helpful metric for comparing air cleaner performance. CADR provides ratings for the air cleaner's ability to remove smoke, dust and pollen. And CADR is evolving. Soon, consumers will also be able to compare air cleaners for their ability to remove microbiological pollutants like viruses, bacteria and mold, and household chemicals. Not sure where to start?  Visit AHAMVerifide.org for more about how to choose the proper air cleaner for your room. Change the air cleaner's filter regularly and position your air cleaner near the center of the room, away from walls, to maximize airflow and performance.
Cool the air: When the temperatures warm up, keep the windows closed and the AC on. Air conditioners don't just cool the air, they contain filters that can help remove allergens.
Keep the indoor humidity in check: Dust mites aren't seasonal, but they tend to thrive in humidity A dehumidifier may make it tougher for the mites to survive.
Subscribe to the AHAM Consumer Blog
---