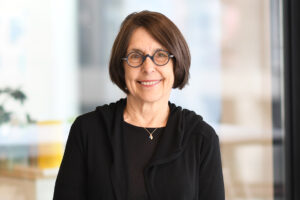 Robin Guenther, a principal at Perkins&Will and a global leader in sustainable healthcare design, died in New York City on May 6 after a prolonged battle with cancer. She was 68 years old.
Architect Robin Guenther
Guenther was a pioneer in the field of architecture; her work focused on the intersection of sustainability policy and health design. She directed the sustainable design strategies of numerous innovative healthcare projects in the U.S. and abroad, many of which have been featured in Healthcare Design and other leading design publications.
Some of the highlights of her work include the Lucile Packard Children's Hospital Stanford—the second children's hospital in the world to earn LEED Platinum certification—in Palo Alto, Calif.; Spaulding Rehabilitation Hospital—which was designed to continue operating during catastrophic flooding—in Charlestown, Mass.; and Memorial Sloan Kettering Monmouth Ambulatory Care Center—the repurposing of a 1980s office building using biophilic design—in Middletown, N.J.
Guenther's impact on the practice of architecture extended well beyond the projects she personally worked on. She played a key role in the development of Perkins&Will's 2008 Precautionary List, a public compilation of substances of concern commonly found in building products worldwide. The Precautionary List helped ignite an industry movement toward healthier built environments and more transparent product manufacturing.
Guenther and her team later helped create the Transparency website, which—in addition to hosting the Precautionary List—provides chemical descriptions, data on human and environmental health hazards, information on ways people can be exposed to those chemicals, relevant government regulations and industry rating systems, and associated building products.
Robin Guenther as regenerative design activist
Outside of practicing architecture, Guenther was a tireless advocate for regenerative design and inspired  fellow architects, clients, and others to be better stewards of the planet and humankind.
She was a senior advisor for Healthcare Without Harm, a nonprofit that seeks to reduce the environmental impact of hospitals and turn them into exemplars of sustainability, and coordinated the organization's Green Guide for Healthcare, the sector's first quantifiable sustainable design, construction, and operations toolkit.
Robin contributed regularly to CleanMed and served on the LEED for Healthcare committee and was an author, along with Gail Vittori, of Sustainable Healthcare Architecture, which includes case studies, essays, healthcare system profiles, and research.
Industry recognition of Robin Guenther's work
In 2005, Robin received the Center for Health Design's Changemaker award for her leadership and innovation in the design of healing environments. In 2010, Healthcare Design magazine named her the "#1 Most Influential Designer in Healthcare." In 2012, Fast Company included her as one of the "100 most creative people in business." She appeared as a TEDMED speaker in 2014. And in 2018, she was honored with "Women in Design" awards from Healthcare Design and Contract magazines.
In accepting the awards from Healthcare Design and Contract, Robin had this to say: "My career has always been about disruption. It's about disrupting the status quo. I believe that that kind of disruption, in the most positive sense, requires not only design innovation, but (also) education and advocacy at very deep levels. We have to create a different future in the built environment."
"Robin was one of the most empathetic architects I have ever met," says Phil Harrison, Perkins&Will's CEO. "First through her own practice, Guenther 5 Architects, and in the nearly 15 years since she merged her firm with Perkins&Will, Robin championed healthy and humane environments. In her early years with Perkins&Will, she developed our approach to designing for health and well-being, with a focus on removing toxins, and in recent years she has been in a pivotal role as a leader in our healthcare practice globally. She worked tirelessly and passionately in everything she did. She has had a huge impact on our firm and on many of us personally."
Robin is survived by her husband, Perry Gunther, an artist and psychotherapist; two daughters, Jyllian Gunther and Nicole Marie Palms; two sisters, Lynn Monahan and Sharon Barnes; and many nieces and nephews. In lieu of flowers, donations may be made to Circle of Friends for the Dying and Commonweal Cancer Help Program.
Source link